Promotional texts and slogans composing
Second-rate words contained in unimaginative sentence will multiply the previous effort with zero. One word may not be like thousand pictures, but the word as a communication element is as important as any visual element. We always add value to the products and services of our clients by creating original texts or slogans. Often, it's just the quality of copywriting (original texts writing) that points to recognizable, intriguing and clear stories. That's why our service functions as a thoughtful and promotional complex that synchronously communicates your messages - both visually and verbally. We can help you with the following:
Slogan devising
Sales messages for products and services
Text writing for websites
Promotional texts for ads, brochures and catalogs (copywriting)
Writing texts for website or promotion (copywriting) is an essential form of communication
We believe that written text should not be just a collage of copied sentences from different sources. If you want relevance, sentences are a combination of key terms that are originally transmitted to a textual complex, with correct spelling and grammar, reflecting your life experience and knowledge in providing services and creating products.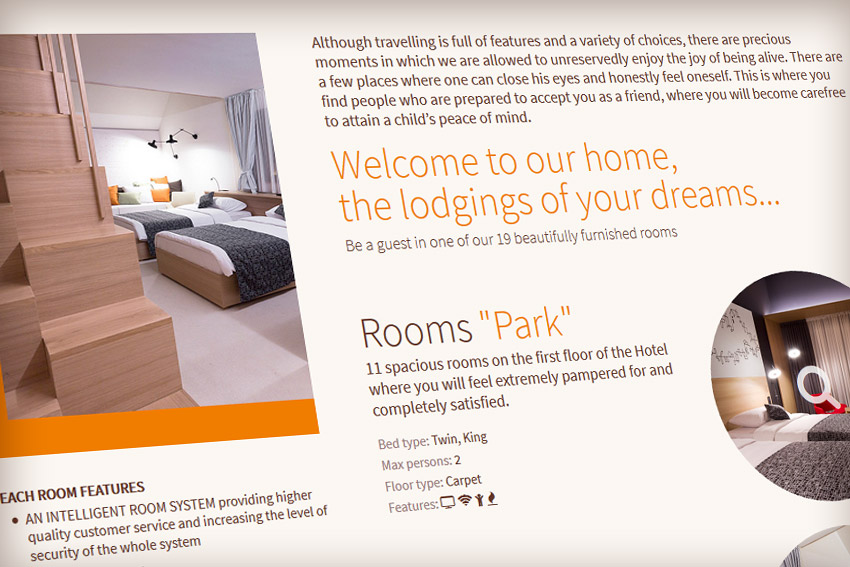 Photo: Composing texts for website and promoting of Park Boutique Hotel [read more]